Grizzly Discoveries Inc. (TSX-V: GZD; Frankfurt: G6H; OTCQB: GZDIF) is pleased to announce that Full Force Diamond Drilling Ltd. (Full Force) out of Peachland, British Columbia (BC) has arrived at the Greenwood Project and has commenced drilling (Figure 1). The Company is starting its drill testing at the copper-gold Dayton Skarn/Porphyry Prospect. Once completed, the drill will move to the Motherlode Target area to test a number of precious-base metal targets. The Company is currently in the process of obtaining the required permits for drilling at the Robocop Project near Grasmere, BC.
The Company is continuing with surface exploration in the Greenwood area while drilling progresses at the Greenwood Project and moves on to the Robocop Project. Crews from APEX Geoscience Ltd. commenced soil and rock sampling in June and have conducted sampling at targets in the Rock Creek area, the Midway area, the Overlander-Attwood area and the Sappho area to date. Additional groundwork including sampling is planned for the Motherlode area and the Copper Mountain area. The groundwork will comprise one or more of prospecting, rock sampling, soil sampling and ground geophysical surveys.
2022 Exploration Conducted to Date
Grizzly has collected a total of approximately 308 soil samples in the Rock Creek area in the vicinity of the Nick nickel-cobalt prospect and in the area of the Ket 28 gold prospect.
Grizzly has collected approximately 100 rock samples in the same area. All samples have been sent to ALS Global in Vancouver for precious metal and multi-element analysis.
Additional prospecting and rock sampling has been conducted at the Midway, Overlander and Sappho prospect areas. The Midway area is being targeted for copper-gold skarn and epithermal gold. The Overlander area is being targeted for mesothermal to epithermal gold-silver (Figure 2).
The Sappho area is being targeted for copper-gold skarn and porphyry type targets associated with an alkalic intrusion and several diorite intrusions south of Greenwood near the US border.
At least three new showings of copper oxide/sulphide mineralization have been found during the 2022 program at the Sappho Target (Figure 3).
Previous surface sampling and drilling by Grizzly at the Sappho area has yielded significant anomalous copper, gold, silver along with platinum and palladium.
Numerous rock grab samples have yielded greater than 1% copper, 1 gram per tonne (g/t) gold, 1 g/t platinum and 1 g/t palladium (Figure 3).
Historical drilling has yielded up to 0.31% Cu, 0.75 g/t Au, 0.34 g/t Pt, 0.39 g/t Pd and 6.57 g/t Ag over 6.5 m core length in skarn at Sappho.
Grizzly has collected more than 200 soil samples and 100 rock grab samples from the Sappho area during 2022. Another 50 rock grab samples have been collected at the Midway and Overlander areas.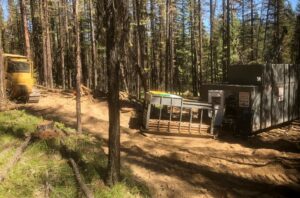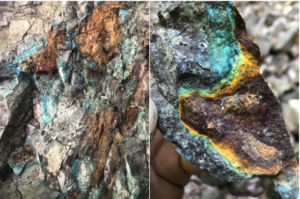 Click this link to view entire news release:  https://grizzlydiscoveries.com/news/2022/grizzly-commences-drill-testing-at-its-british-columbia-precious-and-battery-metals-projects